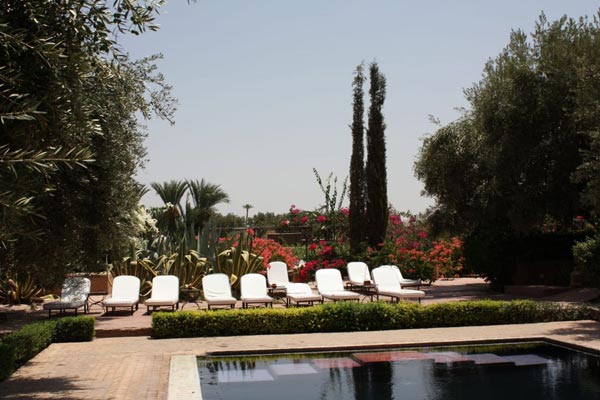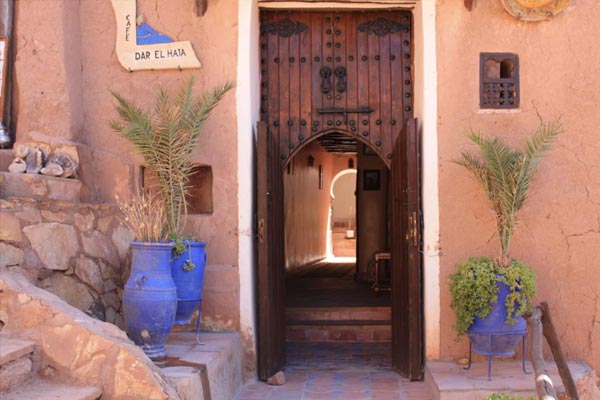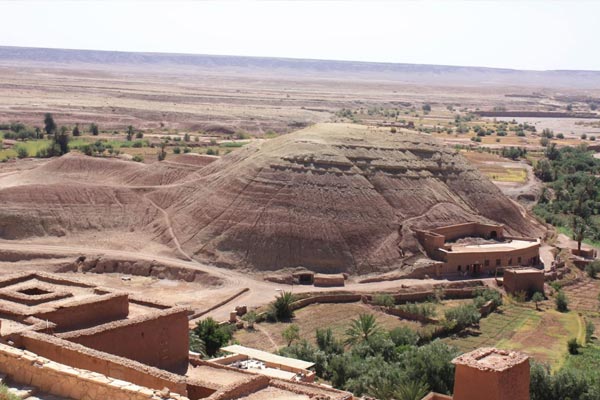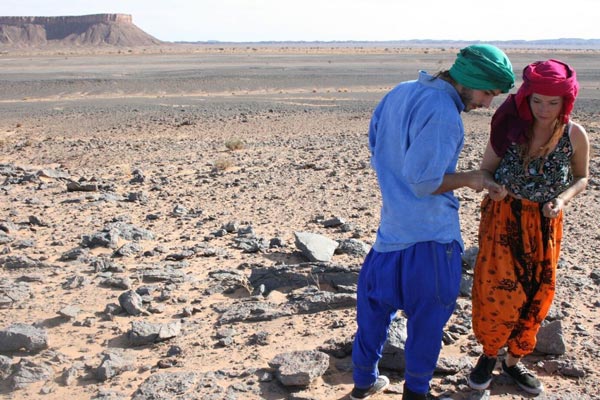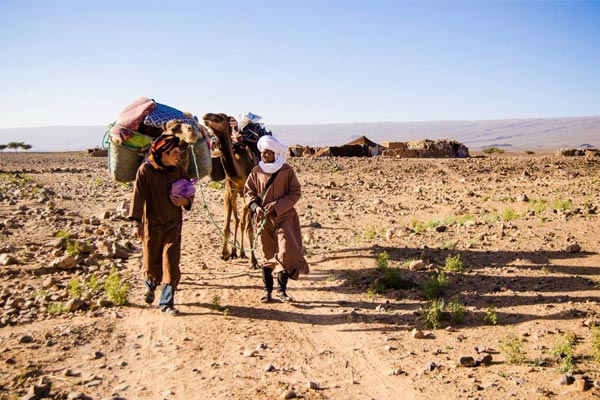 SAHARA CAMEL TREKKING IN 8 DAYS ITINERARY
DAY 1
Arrival at the airport of Marrakech or Ouarzazate then transfer and night in a hotel.
DAY 2
Marrakech - Col Tichka (2260 m) - Ouarzazate - Agdz - Drâa Valley - Zagora - Faija - Camp. After breakfast, direction Ouarzazate (gateway to the desert) by the pass of Tizi n'Tichka 2260m . Visit of the famous Kasbah Glaoui of Telouet, then to Agdz and Zagora. Finally arrived at Faija where the camp is already installed. Distance: 400 km (with breaks).
DAY 3
Faija Plateau - Djbel Bani - Oum Laachar Pass - Oued Lemhasser - Oasis - Camp. After breakfast, walk on the desert plateau and pass the farms at the foot of Jebel Bani. Climb the famous Oum Laachar pass that will take you to Oued Lemhasser. 5-6 hours of walking / 17 km.
DAY 4
Oued Lemhasser - Chegaga Dunes - Camp at the base of the dunes. We leave Oued Lemhasser and walk to the beautiful dunes of Chegaga to spend the night between the dunes. 5-6 hours of walking / 20 km.
DAY 5
Chegaga Dunes - Bougarn Dunes - Camp In the heart of the desert, we leave the dunes of Chegaga towards the breathtaking dunes of Bougern. Stay overnight at the camp. 5 hours of walking / 16 km.
DAY 6
Dunes Bougarn - Oued Naam - Camp After breakfast, we leave the dunes of Bougarn and cross the wadi Naam, where the camp will be installed. 5 - 6 hours of walking / 16 km.
DAY 7
Oued Naam - Mhamid Dunes - Zagora - Marrakech - Hotel. Our last day in this beautiful landscape, return to Zagora by the Mhamid Dunes. Walk to M'hamid (3 hours) with break for lunch and transfer to the hotel in Zagora.
DAY 8
Zagora-Ouarzazate-Marrakech. After breakfast, we leave to Marrakech/Ouarzazate. Transfer to your hôtel/riad
SAHARA CAMEL TREKKING IN 8 DAYS
Camel trekking is a pleasant activity for tourists but it is part of the country's tradition as nomads use camels as a means of transportation for centuries. Following their footsteps is an unforgettable experience.
The most popular adventure in the Sahara desert is a camel trekking in 8 days.
Walking on a camel on the ridge of a dune in the desert of sand with blue sky in absolute silence is an unforgettable experience that cannot be explained. Find the perfect place for the evening. Sitting on the dunes watching the breathtaking sunset is one of the most magical experiences that travelers will ever forget.
A sky filled with bright stars and the silence of the desert that surrounds you is what travelers can experience during this 8 days Sahara camel trekking.
SAHARA CAMEL TREKKING IN 8 DAYS INFO
Duration: 8 days & 7 nights
Departure:7/8 AM
Starting location: Marrakech/Ouarzazate
Ending location: Marrakech/Ouarzazate
Included
Free airport shuttle (pick up at Marrakech / Ouarzazate airport)
Comfortable and air-conditioned transport (4x4 / minibus)
English speaking driver during your travel
Typical accommodations during your trip (hotels, riads and tents)
Full board
Night at nomadic desert camp
Berber music show and entertainment
Visit of nomadic and Berber families
Visit of sites like kasbahs, canyons, breaks for photos, etc
Exluded
Airline tickets
Travel Insurance
Price
The price of this excursion is per person : 840 euros €
Minimum 2 people
Group of 4 to 8 people : 720 euros € / person
ITINERARY